So, I'm a nail-polish blog addict. I can't get enough of 'em. I just read read read and when I finish reading, I click on another one from the nearest blogroll. I spent a majority of my internet time this summer just looking at nail polish.
So, I shamefully admit that I have read every single article on
Kronicles of a Konader
. Every now and then she would mention how a stamping idea was so much better in her head, and when I saw how this manicure turned out, I finally understood what she meant.
Le sigh... It seems to have mostly to do with the colors not showing up properly. Its still kinda cool, kinda like the reflective surface of really clear water in real life, but definitely not what I was hoping for.
I used a trio of cool-toned shimmers, blobbed 3 big drops onto the swirly pattern on BM19 and dragged the colors around with an orangewood stick before scraping.
I used two coats of American Apparel Cotton for the base (though 3 would have evened it out a bit better) and then the shimmers were a nameless purple with gold shimmer from The Face Shop, and Sephora by OPI's Mermaid to Order and Leaf Him at the Altar for the blue and green.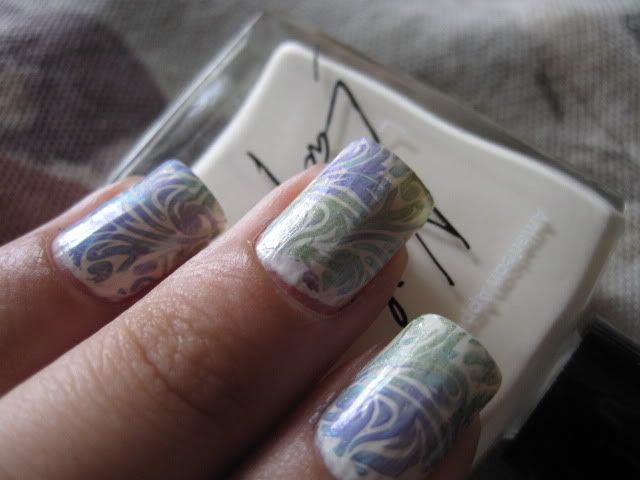 Topped with a thin coat of Seche. I'll probably revisit this on a rainy day. When I lay my claws on some better stamping polishes, eheh.